Sherlock Holmes and the Baker Street Dozen
Who strangled the man in charge of the freak show at the fun fair on Hampstead Heath?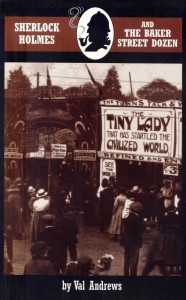 Val Andrews, the master crime writer, chose this 1914 image of side shows for his eighth Sherlock Holmes book. This is a collection of thirteen short stories, providing the reader with a fascinating escape into the Edwardian life of the world's greatest detective.
Sherlock Holmes uses his consummate skill and his encyclopaedic knowledge of little know facts and obscure detail to solve each of the thirteen mysteries.
Published by Breese Books ISBN: 0 947533 419
Picture copyright EAI Picture Library – All Rights Reserved