Giant Pleasure Wheels
George Washington Gale Ferris

 Jr.

– American Bridge & Tunnel Engineer (1859-1896)
1893 – Giant Pleasure Wheel – Columbian Exposition at Chicago – "The Queen of the Midway"
264ft. high & 790ft. in circumference – 36 passenger cars each carrying 38 people. 1368 passengers fully laden.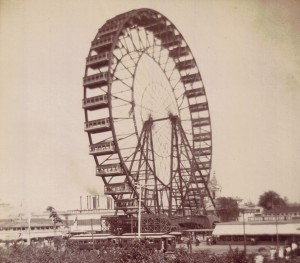 G.W Ferris died in poverty three years after this Giant Wheel was completed. The attraction was pulled down in 1903 and moved to the Louisiana Purchase Expo. in St. Louis and re-opened in 1904.  Finally on May 11, 1906 this Giant Wheel was demolished by a 200lb. charge of dynamite.  The name "Ferris Wheel" is still used today.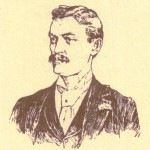 Walter B. Bassett

– British Naval Officer

(1863-1907)
1895 – Giant Pleasure Wheel – Earls Court Oriental Exhibition, London.
276ft. high – 30 passenger cars each carrying 40 people – 1200 fully laden – 8 level loading platforms.
Pulled down for scrap in 1906.
1896 – Giant Pleasure Wheel – Winter Gardens, Blackpool, Lancs.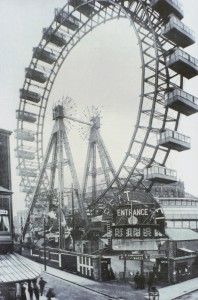 A "CALL-BIRD" for the Winter Gardens. 214 ft. high – 30 passenger cars each carrying 30 people – 900 passengers fully laden. 400 tons of steel. Built to rival the 518ft. high Blackpool Tower which opened 14/5/1894.
Pulled down for scrap in October 1928. Passenger cars sold for GBP20.
1897 – Giant Pleasure Wheel – Reisenrad, Vienna, Austria
226ft. high – 30 passenger cars each carrying 20 people – 600 passengers fully laden.
Built to commemorate the 50th. Anniversary of Austrian Emperor Franz Joseph's ascension to the throne.
Famous landmark used as a location during the filming of the motion picture "The Third Man". Still in operation today with only 15 cars.
1898 – Giant Pleasure Wheel – "La Grande Roue" – for the Paris Exposition of 1900.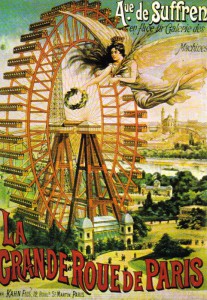 328ft. high – 40 passenger cars – Built on the Avenue de Suffern close to the 984ft. high Eiffel Tower (built for 1889 Paris Expo.).
Pulled down in 1920. The passenger cars were used as temporary homes for some of the First World War homeless.
Wheel Wars
In 1896 there had been plans for a Giant Pleasure Wheel at New Brighton (UK), with James Weir Graydon as Proposer & Engineer (US Inventor and holder of a British Giant Wheel patent). Walter B. Bassett claimed that on 10/8/95 he had reached an agreement with Graydon that gave Bassett the exclusive rights to use the Graydon patents to build Giant Pleasure Wheels in the UK. Graydon filed a countersuit against Bassett for financial damages, due to the construction delay. This was dismissed by the Court. By this time Bassett had completed the Giant Wheels in Blackpool, Vienna and Paris, and the New Brighton project was scrapped. Bassett died nine years later on 25/5/07 at Watermouth, and was by then virtually penniless.  
Intellectual Rights & Images are Copyright of the EAI Picture Library