The Giant Wheel at Blackpool Faces the Wrecking Ball in 1928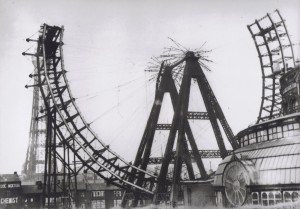 After 32 years of delivering fun, the "Jolly Wheel" (or Human Centrifuge) was coming down in 1928.  The Giant Wheel was never really able to challenge the Blackpool Tower, so the end was nigh.  Built by British Naval Engineer Walter B. Bassett, this was the second Giant Wheel out of four that he was to construct between 1895 and 1898.  Earls Court (London), Blackpool, Vienna and Paris all received variations of Bassett's Giant Wheels.  Bassett died penniless in 1907.  In 1896 he was challenged in the Courts by James Weir Graydon, an American Giant Wheel inventor and patent holder.  Bassett claimed he had reached an agreement with Graydon in 1895 to build Graydon designed Giant Wheels in Europe.  The Courts found in Bassetts' favour, and by then all four Wheels had been constructed anyway.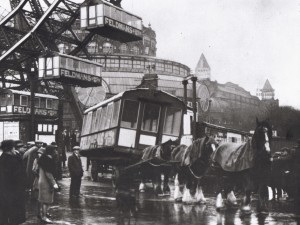 The Jolly Wheel in Blackpool closed its' gondolas to the public after opening for one last day on 20th. October 1928.  As each carriage or gondola was detached, the next carriage was taken from the opposite side to maintain balance in the structure.  The carriages were put up for sale by the demolition company at GBP20.00 each.  One of these carriages was purchased by Miss Edith Swallow, first Matron of The Blackpool Orphanage.  It was used as a summer holiday home for children.  In 1943 this carriage was sold again to the Wild Boar Petrol Filling Station in Blackpool, to be used as a cafe.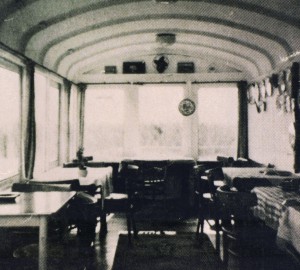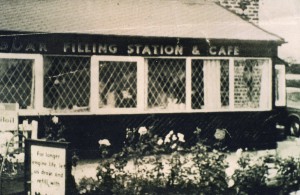 All Images are Copyright of the EAI Picture Library – All Rights Reserved