Equal to a Band of 50 Musicians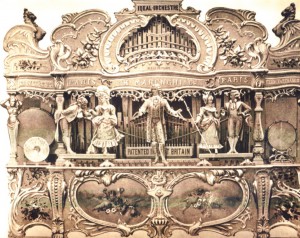 This instrument, built by Marenghi in Paris was an 89 key organ equal to a band of fifty musicians including – Solo Violins and Bartitones; Small Flutes; Large Flutes; Flageolets; Clarinets, accompanying Violins; Altos; Violoncellos; Trombones; Basses; Xylophone; Cymbals; Big Drum and Kettle Drum. This organ measured 15 feet long by 11 feet high.
In 1901 the organ was presented to the public by Alderman P. Collins on his double wagon front Bioscope Show (cinematograph) – formerly Wall's Ghost Show.
Intellectual Rights & Image Copyright EAI Picture Library