COMPLETE Build-Up of this Vintage Slip (includes link to movie)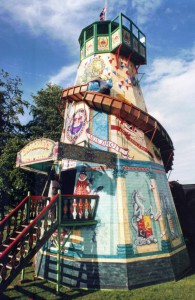 Charles Drakeleys' Helter Skelter (Lighthouse Slip) was built in 1914 by Messrs. Griffiths & Morgan of Shepherds Bush, London. The attraction is 15m high, with a ground footprint of 9.5m in diameter. This is the last wooden example still travelling. The ride was re-decorated in 1995 by Susan Banner.
The 100 images which make up this movie slideshow were captured on two Minolta 8000i Dynax SLR Camers in 1995, supported by Minolta Auto Focus 50mm and 24-50mm; 35-105mm and 100-300mm AF Zoom Lens, together with Minolta 3200i & 5200i Flash Units. Abstract images were achieved by photographing the subject in a distorted mirrored plate and reverse printing the negatives.
Fujifilm Super G Colour Negative ISO200 was used throughout the shoot.
Susan Banner re-decorated the attraction in February 1995. The step-by-step build-up of the attraction was shot at Stoke Park, Guildford, Surrey on 26/05/1995, and the "magic hour" images were shot at The Royal Windsor Horse Show on 13/05/1995.
Imagine the effort and sheer hard work in building-up, pulling-down and transporting this heavy wooden attraction. Picture if you will a One Day Town Centre Street Fair in winter with windy and frosty conditions. This ride would have to be built-up in less that four hours (sometimes in cramped conditions) to be ready to open by 6:00 pm only to be pulled-down again at 11:00 pm. THAT IS HARD WORK! Hats off to all our Showfolk!
Images are the Copyright of the EAI Picture Library
All Rights Reserved